The Cheesehead Challange
The Wisconsin Cheesehead Challenge state championship is set to open its second season at the Briggs and Stratton Motorplex on the famous Road America grounds. A 4 round, two-weekend championship will determine the best karters in Wisconsin for 2 cycle and 4 cycle classes. The Cheesehead Challenge series offers cash prizes for class champions, collector's edition trophies for the top 3 finishers of each round, and collector's edition series medals for all participants. Winners will also be recognized as Wisconsin's best karter.
Cheesehead Challenge kicks off the first two rounds at the Briggs and Stratton Motorplex in Elkhart Lake, WI, on May 20-22, 2022. Rounds 3 and 4 will be challenged at Millrite Raceway, the home of the historical Badger Kart Club, August 26-28, 2022.
Class structure for the Cheesehead Challenge will include TaG Senior 100cc (KA & VLR), TaG Masters 100cc (KA & VLR), TaG Junior (KA Only), Iame Swift (Mini Swift engine, expanded age range), Briggs 206 Senior, Briggs 206 Junior, Briggs 206 Sportsman, and Briggs 206 Cadet!
Come and prove you're the best at the most iconic karting tracks in Wisconsin!
2022 Cheesehead Challenge Points
Online Event Waiver for Road America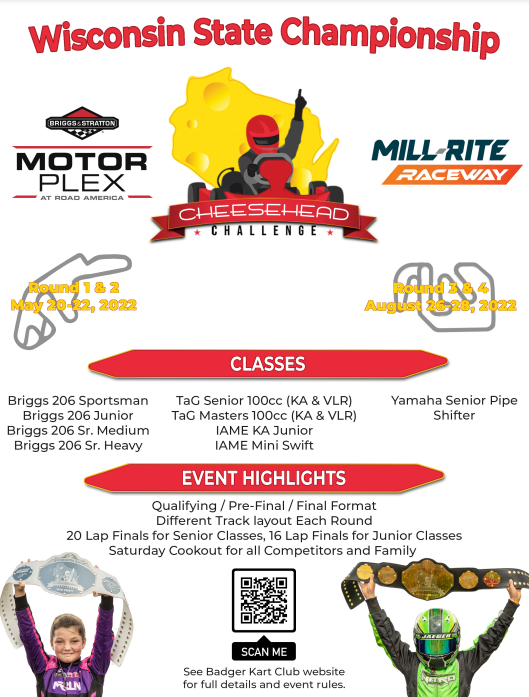 Click here for Online Registration!