---
Bucks for Bingo Fundraiser
Most of you know Bingo Emmons. For twenty years, he has served in many capacities throughout kart racing. Bingo is currently the BKC President and is the Race Director most weekends. As many of you know, Bingo was injured in a fall a couple months ago. This has resulted in surgery, physical therapy, and many months to go of recovery. Right now they're waiting to see if more surgery will be needed to correct issues with his vision.
With the thought of the time until he will be allowed to return to work, some friends organized a fundraising raffle. There's an exciting list of prizes donated so far, and hopefully more prizes will be added to the list. The raffle will kick off at the BKC Awards Banquet this Saturday, and the drawing will be at the Swap Meet on February 2, 2014. Information on tickets can be found on the Bucks for Bingo website. Thanks for your help!
---
December Board of Directors and General Membership Meetings Cancelled
The General Membership meeting scheduled for Thursday, December 19, has been cancelled. The Board of Directors meeting scheduled for January 2 will be moved to Thursday, January 9, 2014.
---
2014 Rules Counter-Proposals
The membership will vote on proposed changes to the Badger Kart Club rules at the January General Membership meeting. You can find the proposed changes submitted by the Rules Committee here. Other changes may be proposed by the membership as "counter-proposals." Counter-proposals must be submitted using a BKC Counter-Proposal Cover Sheet found here. Counter-proposals must be submitted to Al Weisensel at pawracing@msn.com by 7PM on December 21. Counter-proposals must be signed by five members in good standing, a good place to find signatures in the BKC Banquet this Saturday. Important note - the December GM meeting previously scheduled for December 19th has been cancelled, so you do not have the option of hand delivering any counter-proposals at that meeting. Contact Al at pawracing@msn.com with any questions on counter-proposals.
---
2014 Schedule
The membership voted on a schedule for 2014 that includes 14 races with 2 drops. That schedule will be posted shortly.
---
Garage Project News - Update 10/7
We are seeking permits and approval for the project, and hope to have it started over the winter. The final location for the project is the north west corner of the paddock, in the area across from the ambulance gate and scoring tower. All 14 units in the original project have been spoken for, and we are seeking approval for a 20 unit building. You can continue to submit deposits to Sandy Mitz. Registrations in excess of the amount of units built will be placed on a waiting list for the next available space. The proposed location will not provide direct grid access, and rental prices are $1,000 per year for a space and $1,250 for a vendor space. For more information, check out this flyer. A $350 deposit reserves your space, which will be returned if the garages aren't built. You can also contact Sandy Mitz by e-mail at smitz@mrsc.com with questions. Vendors/contractors wanted - if you are interested in bidding on the project or sponsoring part of the project, please contact Sandy Mitz by e-mail at smitz@mrsc.com.
---
Member Service Email Addresses
Badger Kart Club is a volunteer organization, and it takes the work of a lot of people to keep the club running. To make it easier for members to find the right person and get a response, we've created a few email addresses that will always forward your messages to the right person.
---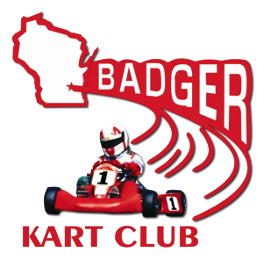 ---
---
Badger Kart Club is committed to serving our community. BKC's Education Outreach Programs began in the 1970's, with The St. Charles Boys Home, and continues today- with involvement in the Out Look University and North Shore Middle School programs.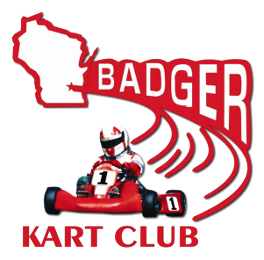 ---

Please thank and patronize the fine companies who proudly support the club and track: